STANDARD REVEAL STRIP COLORS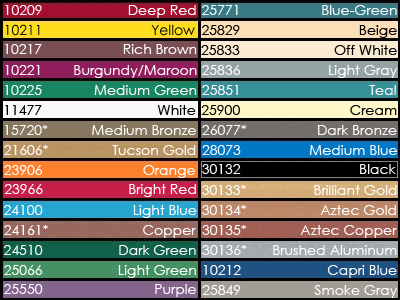 Name Strips, Inc. offers 30 standard colors from the Matthews Acrylic Paints catalog. For more than 40 years, Matthews Paint has manufactured the world's finest coatings for architectural signage. Please refer to the color chart above to find the color most appropriate for your name strip project.
Colors marked with a (*) are metallic.
Due to differences in monitor resolutions and color depth, it is impossible to show a 100% color match. These color examples are provided for our customers reference only. If you are unsure which color is correct, please contact customer service to request a chart by mail.